Annie McInnes received a BFA from the University of California at Davis and has more than 50 years experience working with a variety of media.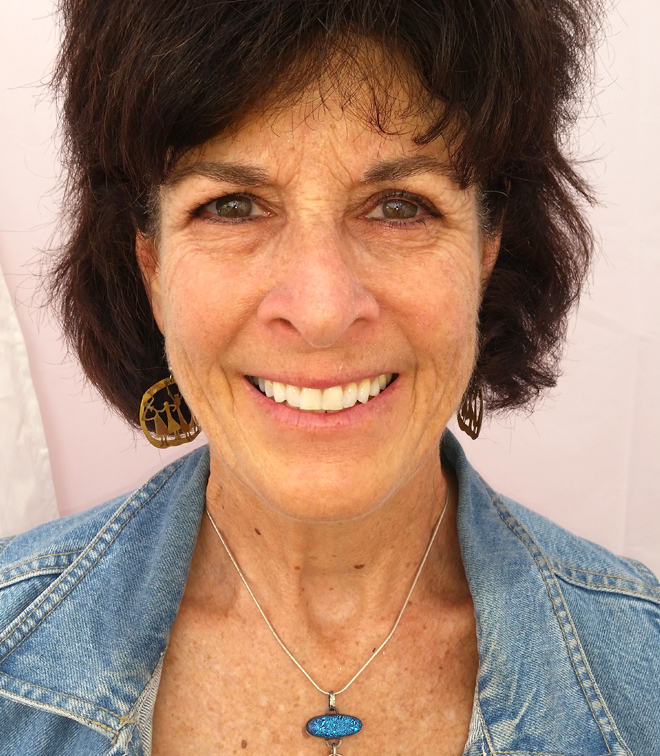 She was a middle school art teacher in Jefferson County Schools in Colorado. Her students' work has been acclaimed with a variety of awards. One of her current loves is working with silver and glass.
Annie originally studied silversmithing to expand her classroom teaching knowledge, but her passion soon led her to working with metals and making glass for hours on end. Annie enjoys experimenting with fusing a variety of dichroic glass to make cabochons for jewelry. As Annie continues to increase her knowledge and abilities with manipulating metal, she is constantly updating her web site.

Annie is a wife of 37 years, a mother of two daughters and grandmother of five grandchildren. She is an avid outdoor enthusiast who enjoys downhill skiing, mountain biking, hiking and golfing.

Annie's Jewelry Materials & Process

Dichroic glass

Dichroic fuseable glass is one of the most expensive glasses made. "Dichroic" means two colors (in Greek "dikhroos"). Dichroic glass is a coating process that is completed in a vacuum deposition chamber. As many as 30 layers of dichroic may be applied to glass and measure only 35 millionths of an inch. In the 1950's and 1960"s NASA adopted dichroic glass by spraying it onto the outside tiles of the space craft to protect the astronauts when reentering the earth's atmosphere.
In the 1970's Jerry Sandberg worked with artists to implement dichroic glass in the creative process. Depending on the light and angle of viewing a piece of dichroic glass the colors change. This is similar to a hologram where there is the illusion of varying depths of color. Earliest known use of this changing glass dates to the 4th century A.D.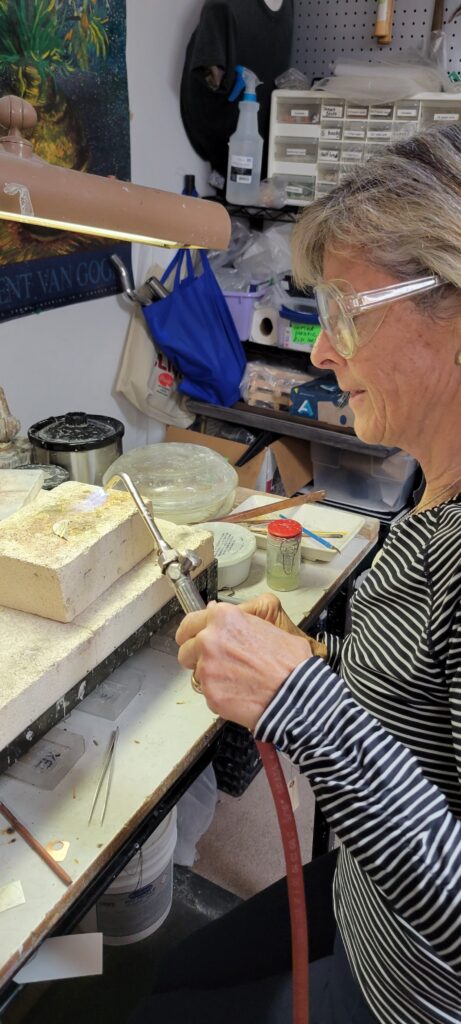 Unfortunately only small fragments of this glass have survived to this day. In my jewelry I layer, fuse and cut dichroic glass in a variety of ways to create different visual effects.

Enameling

Basically enameling is the fusion of glass to metal. There is and have been a variety of uses for enameling. Some uses are: coffee pots, mugs, bowls, sinks and tubs as well as in jewelry. Numerous enamel techniques have been used in jewelry-making.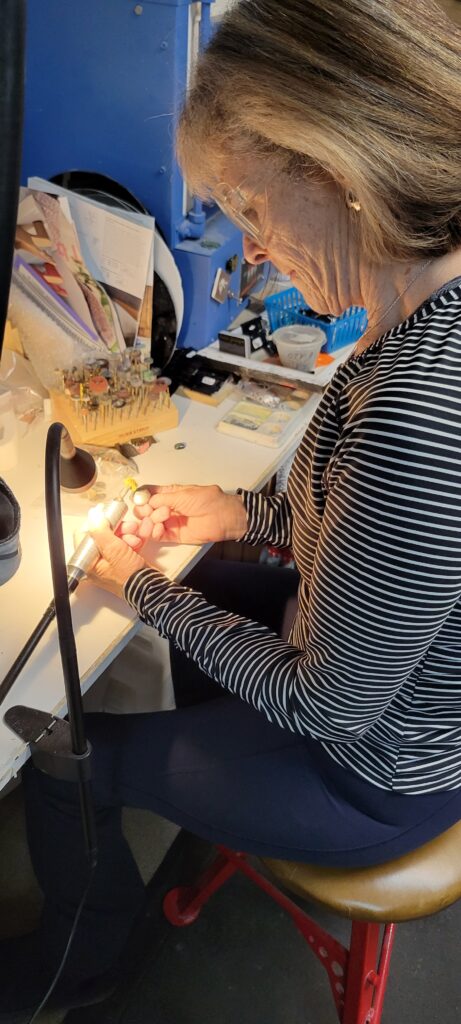 The following are some types of enameling used in creating jewelry : Basse taille, camaien, champleve', cloisonne' and many more techniques. Layers of powdered glass is applied to metal and then fired (heated in a kiln) to about 1400- 1500 degrees f. Layers are added and heated individually. Techniques such as scraffito and crackling are two techniques I have employed in making my enameled earrings.